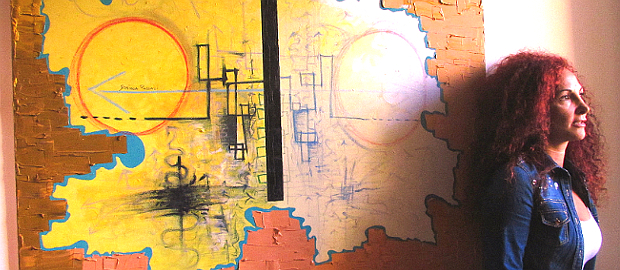 "When my energy vibrates ... I create!"
Dominga Pascali probably has the desire to be unique, to stand out and to leave a mark inherent in her own original and out of the ordinary name. Roman by adoption, but born in Apulia, Dominga approached the art of painting very early, unmistakably influenced by colors and senses of her land, and won her first painting contest at the age of twelve. Her artistic journey began in Calimera, her birth town, and led her in the capital, where she lives and works today.
The evolution of Dominga's life is inevitably and highly visible in her artistic production. An evolution that began with a first phase, in the adolescent years, which offers a realistic representation of reality, through ideograms, photograms, naturalisms, up to the today's "conceptual abstraction". It is no accident that the radical departure from the "realistic" stage of her painting and the approach to abstractionism arrived during her university life, when she was influenced by the discovery and the study of artists such as Klee and Klimt. "I represent my moods through shapes, lines, colors".
It is precisely the same artist to imply the meaning of her current production, a continuous research for the evolving relationship between man and the city without ever abandoning the very strong instinctive part of the author's personality, as expressed in the work "Animal Instinct". Dominga Pascali lives for the art and in the art every day, giving to every work she does an important and essential part of her being, a worker woman, committed, passionate and unconventional at the same time.
If I could summarize in a few words the artist Dominga Pascali, I would repeat his "karma":
"When my energy vibrates ... I create!"

Zarina Chiarenza
Editor Elle Radio Roma
After reaching the third place in September at the National Painting Competition organized by "Painting and around" our compatriot Dominga Pascali follows another..

Hello everyone Calimeresi are 4.30 am on the day 08/07/2012. my name is Dominga, I was born in calimera (LE); I moved to Florence in 1990 and since 2007 I live in..

L 'Apulian artist who currently resides in Rome, is on display at' OLS Via Etruria, 2.'s Collection is titled "Anti Boredom," and is a collection of works created by Pascali..